When you hear the term "video sharing" the first thing that comes to your mind is YouTube, one of the most popular video sharing platforms, which was founded in 2005. Since then its users have continuously increased and one of the reasons is probably due to the fact that users can be able to create its playlist as well as a video library. If you want to download a whole YouTube playlist so that you can play the videos offline, there are several options available that are fast and convenient.
Saving a whole playlist allows you to put the videos on a portable media player or mobile device for offline viewing or when you do not have an internet connection. There are several applications available that include both web-based and others that require to be installed on the desktop. The following are some of the most common ways to download an entire YouTube playlist.
Video Download Capture
This is the best way to download a playlist of videos on YouTube but you will need to download and install the app on your desktop to be able to use it. The Video Download Capture application is capable of downloading the entire video playlist at once. This method is less time consuming since you do not need to download one video at a time.
Step 1
Start by downloading and launching Video Download Capture. The installation process is easy, as every step is explained in detail.
Step 2
After successfully launching the Video Download Capture, choose the playlist that you wish to download on YouTube from the different categories such as music, movies or funny channels depending on what you fancy most. The playlist will normally be displayed on the extreme left bar on your YouTube account after subscription. Just click on it to get its video URL.
Step 3
Once you find the video URL, enter the playlist's video link into the appropriate URL field and click on the "Add to download" button. All video clips under the selected playlist will then be shown on the main interface in list form. To choose all the videos, click on "Select All" but you can also opt to select specific videos from your preferred playlist for downloading. You will then be given a choice to select your preferred format.
Video Download Capture not only lets you download an entire YouTube playlist easily and conveniently but it also comes with several amazing features such as the video converter that allows you to convert both video and audio files to other preferred formats. This feature supports a wide range of formats hence it is easy to find one that is compatible with your media player or device. You can also merge all your video playlists into one file with just a click of a button. The Video Download Capture also comes with some basic editing features such as trim, crop and effect video that allows you to enhance and customize your videos. You can also include subtitles in your video in whichever language you like.
Videoder
Videoder is an up-and-coming app for Android, Mac OS, and Windows that lets you perform many different functions with YouTube videos, including downloading, converting a YouTube video to MP3 audio, a free music downloader, and downloading videos in 4K quality. It promises speeds of up to 10x faster downloading than many other options.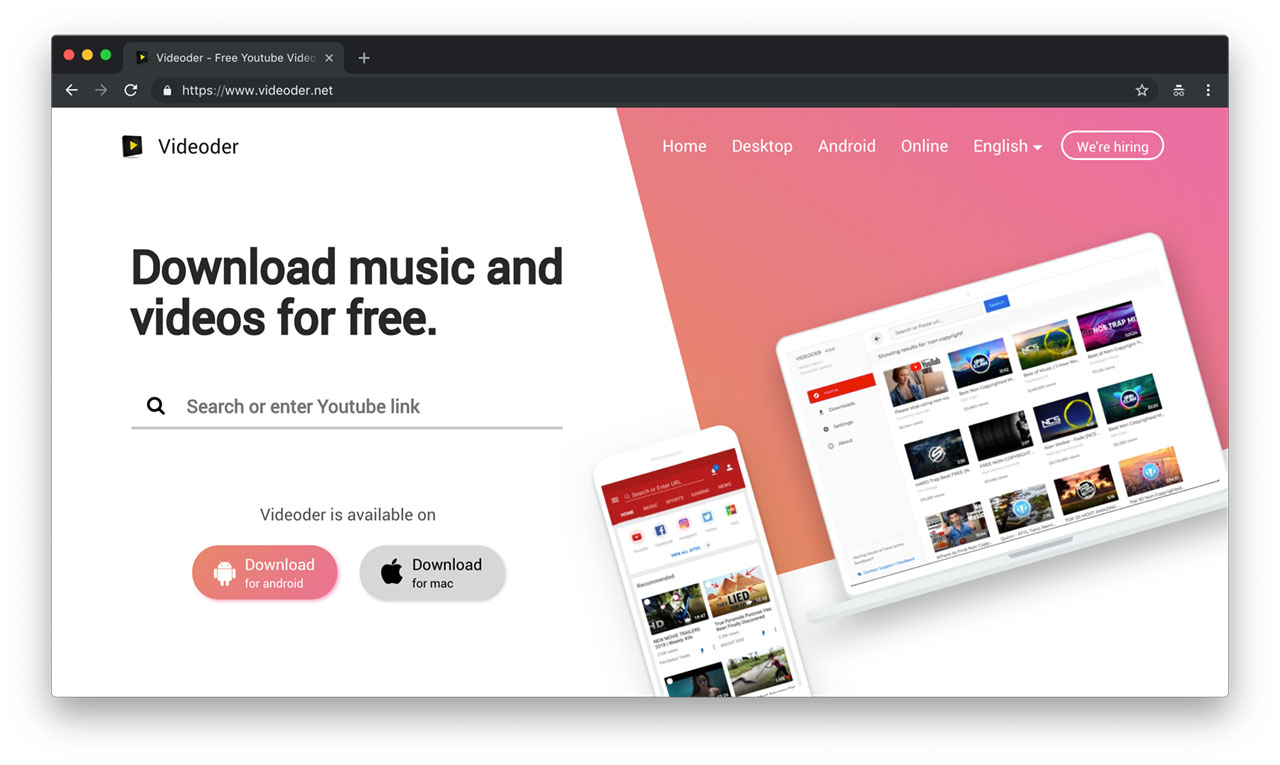 Videoder download from more sites than just YouTube, including Instagram, Facebook, and FMovies. You can read our complete guide to Videoder here.
4K Video Downloader
This video downloading app comes with aggressive toolbars as well as spyware and adware. This downloader is available on Windows, Mac as well as Linux operating systems. Besides downloading YouTube playlists, the 4K Video Downloader also lets you download entire channels. With just a single click, the app can automatically download new video clips from different channels immediately they become available.
Gihosoft TubeGet
This app is available on both Windows and Mac operating systems and like 4K Video Download, you will be able to get a lot more than just YouTube videos. Gihosoft TubeGet supports over 10,000 sites that include Facebook, Blip.TV, Dailymotion, Metacafe, Vimeo among others. Using this app, you can be able to download entire playlists including single videos. In order to download a playlist, simply select its URL and click on the "PasteURL" tab found on the top left-hand corner on your screen.
MegaVN.com
This web-based app is available on all web browsers and is a good choice for those who do not trust third-party apps. Most web apps will only allow you to download single videos hence finding one that is capable of downloading an entire playlist is not easy.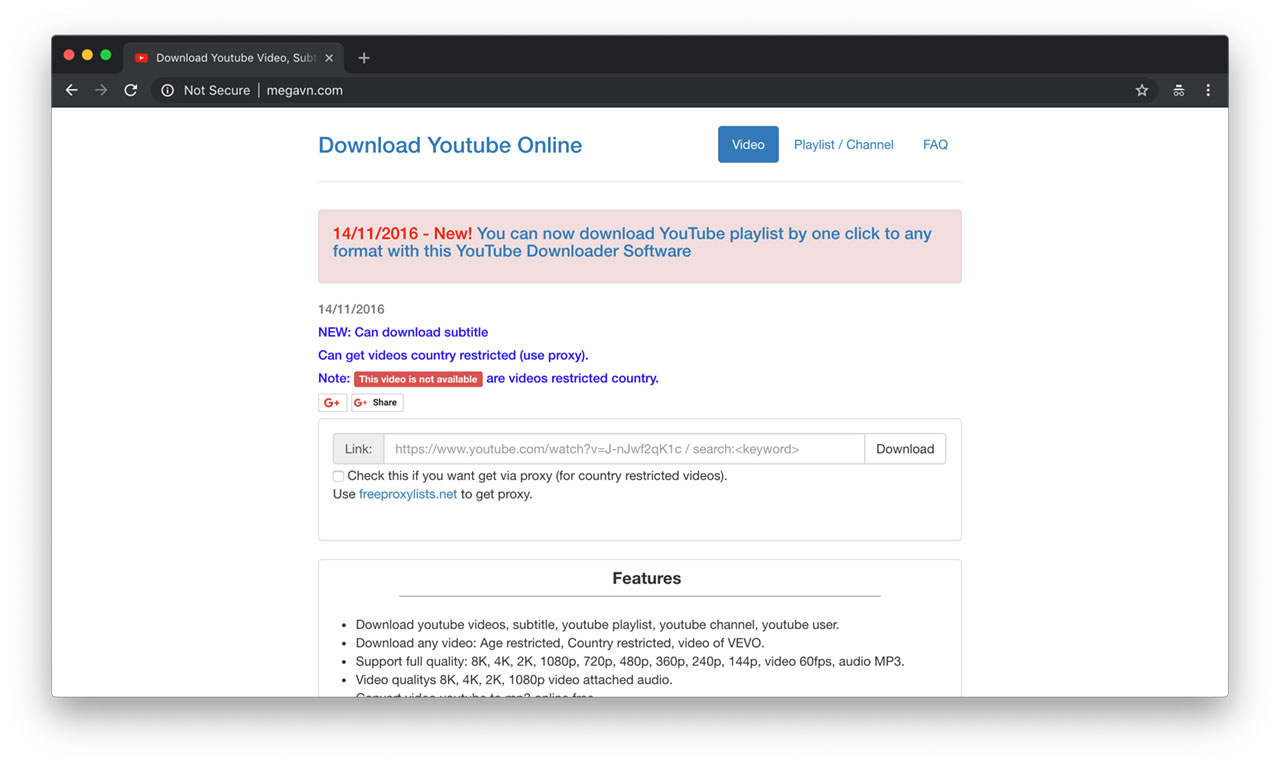 MegaVN.com is arguably the best way to download a playlist of videos online. Simply click on your preferred playlist and paste the link. This web app also comes with great features such as proxies that allow you to download country restricted videos. This app further gives you a list of proxies for you to choose from.
KeepVid
This downloadable app is available on Windows and Mac platforms and works just like Gihosoft TubeGet and 4K Video Downloader. By downloading this app on your computer you can paste the links of all playlists and videos and download them for your offline entertainment. KeepVid supports over 28 sites including social media sites such as Facebook and Instagram as well as news sites like CBS and ABC.
Video Grabber
This online application will not cost you a dime to use it. You only need to copy and paste your preferred URL of the video you want to download onto the appropriate field and then click "Download". You can also be able to choose a format that you like. Repeat this process on all other videos on the preferred playlist until you have all those that you want. This method may take you some time since there is no feature that allows downloading all videos on the playlist at once.
Everyone loves YouTube since it allows users to easily access millions of videos ranging from sports highlights, full HD videos, movie trailers, funny clips, music videos and many TV episodes. However, it might be a bit challenging so search and play all your favorite videos one-by-one hence the YouTube playlist enables you to add all your favorite videos in one organized list. Downloading the entire playlist at once will save you a lot of time and effort compared to downloading each video at a time which is time-consuming.
---